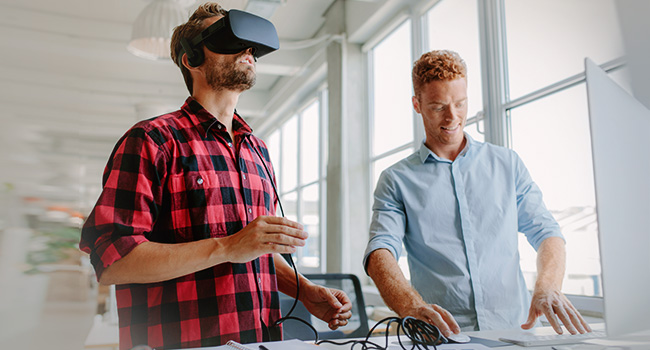 The total consumer spend on computer and video games in 2015 was $23.5 billion, according to the Entertainment Software Association. The gaming industry has witnessed a dramatic rise in sales over the past 10 years, and now, 48 percent of U.S. households own a dedicated game console. In nearly two in three households, at least one person plays video games three or more hours a week.
Newer concepts in gaming help explain this growth.

A driving force for the increasing popularity of video games is technology, and video game engines are a primary factor. Developers are able to create more immersive games with engines like Unity and Unreal.
Unity 3D
Unity has a 45 percent share of the global game engine market, according to The Next Web. That figure is nearly three times the size of its nearest competitor. A survey of video game developers in the United Kingdom found that 62 percent of respondents use Unity 3D Engine, followed by an internal proprietary engine (47 percent), "other" (23 percent) and Unreal Engine (12 percent).
Unity offers several benefits for developers.
Ease of programming: Unity supports C# and JavaScript, which are easier languages to learn. Those who are not versed in programming can use visual scripting tools like PlayMaker.
Rapid development: Users can rapidly develop a game, thanks to Unity's modular system and usability. Developers can edit variables during gameplay, without having to edit code.
Realism: Unity includes a custom shader for creating 3D texture-based models. It's so powerful that some developers who aren't in gaming use Unity to create architectural visualizations for clients, along with other uses.
Multi-platform support: Unity games are supported on more than 20 mobile, virtual reality, desktop, web, console and TV platforms.
Available services and tools: Unity offers services such as ads, analytics and multiplayer support to help developers monetize and improve their games. Unity also offers tools such as plug-ins, environments and models to help developers build games.

Unity powers some of the most popular games and is a great choice for those starting out. While it's used in professional and indie studios, beginners can take advantage of the full engine for free. The "Personal" plan does not lack functionality. A developer could use this plan to create a game and make up to the revenue cap of $100,000. Aspiring game developers can enjoy the free version, its ease of programming and a number of services and tools to get started.
Notable games on Unity include the following titles.
Console/Computer: Rust, Subnautica, Polybridge, Cuphead, Firewatch, P.A.M.E.L.A.
Mobile: Hearthstone: Heroes of Warcraft, Deus Ex: The Fall, Angry Birds 2, Temple Run
Virtual Reality: Waltz of the Wizard, Ghostbusters Dimension, Suicide Squad: Special Ops
Unreal Engine 4
Most people believe that Unreal Engine 4 is the closest competitor to Unity 3D, according to The Next Web. It is popular for first-person shooter franchises, like Tom Clancy games.
Unreal offers some of the same benefits as Unity.
Ease of programming: Unreal uses C++, which is more complex than C#. Users have access to full source code and can join the community in "updating and extending more than three million lines of code available on GitHub," Unreal says.
Rapid development: Unreal offers tools on Blueprint, which is a proprietary visual scripting engine, for rapidly prototyping and building games without the need for programming. A visual debugger is also included.
Realism: Graphical features include advanced dynamic lighting, physically based shading and materials, and Illuminating Engineering Society light profiles. Cascade visual effects allow millions of dynamic particles to receive and emit light within a scene, and developers can control particle properties like size, color, density, falloff and bounciness.
Multi-platform support: Unreal games are supported on several mobile, virtual reality, desktop, web, console and TV platforms.
Available services and tools: Sample games and scenes, art and audio, Blueprint logic and C++ code are available from Unreal. Developers can buy content for projects or create and sell their own.

Unreal is another mainstream option for developers looking to create powerful games on virtually any type of platform. Like Unity, Unreal is accessible for developers looking to try the engine. It is free to use with a 5 percent royalty on gross product revenue after the first $3,000 earned per game per calendar quarter.
Notable games on Unreal include the following titles.
Console/Computer: Injustice 2, Gears of War 4, Tekken 7
Virtual Reality: Batman: Arkham VR, Raw Data, Bullet Train, ADR1FT
Education Requirement for a Career in Video Games
Those interested in helping create video games can be part of a growing industry that touches people in many walks of life.
"Video games are the future," says Michael Gallagher, president and CEO of the Entertainment Software Association. "From education and business, to art and entertainment, our industry brings together the most innovative and creative minds to create the most engaging, immersive and breathtaking experiences we've ever seen. The brilliant developers, designers and creators behind our games have and will continue to push the envelope, driving unprecedented leaps in technology impacting everyday life for years to come."
Aurora University's online bachelor's degree in Computer Science prepares students for a career in the video game industry. It teaches JavaScript (used in Unity) and C++ (used in Unreal), as well as various software engineering concepts essential to video game engines. The program takes place in a fully online environment that accommodates students' personal and work schedules.