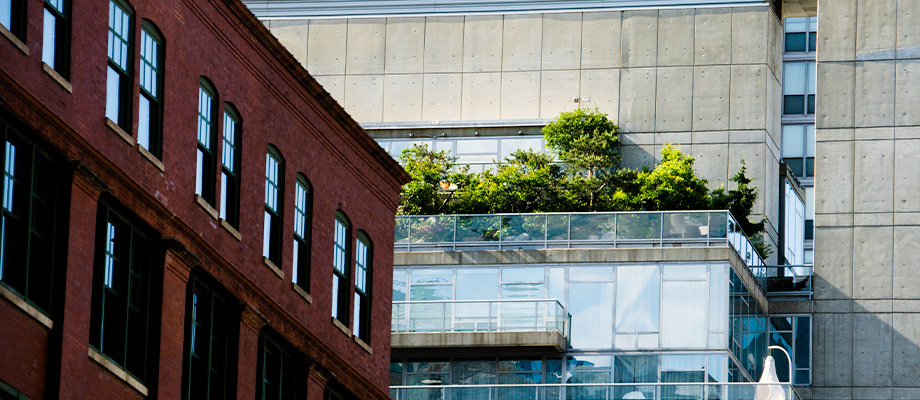 Some local and national headlines in 2016 focused on a relatively uncovered topic: urban farms in Chicago. That was a banner year for the Windy City's involvement in the now-trendy urban agriculture phenomenon.
A lot of the press surrounded how the City of Chicago received a $1 million federal grant through the U.S. Department of Agriculture. Chicago Tribune revealed how the money benefited the city's "Growing for Chicago" initiative to provide small grants and education through partnerships with nonprofits, as well as to boost overall farming efforts. The same year, Fast Company said Chicago was becoming the country's urban farming capital, given the torrent of new startups across all major types of urban farms [link to infographic], like rooftop greenhouses and vertical farms.
The city has remained committed to urban farming. A Chicago lawmaker introduced a bill in 2017 to establish urban agriculture zones across the city and the state in an effort to break up food deserts and help underserved communities. It was vetoed by the governor, but in November 2018, the Illinois Senate approved an override by a vote of 49-1. Overall, urban farms in Chicago have ballooned. At the time of publishing, the Chicago Urban Agriculture Mapping Project has identified 871 urban farms around the city.
5 Urban Farms in Chicago
1.    Windy City Harvest
As the Chicago Botanic Garden's urban agriculture education and jobs-training initiative, Windy City Harvest serves low-income youth, adults, and communities alike. It also produces around 100,000 pounds of fruit and vegetables across a dozen locations.
The nationally recognized youth program is designed to help at-risk youth. Each year, 80 to 90 teens learn urban farming as well as teamwork, healthy eating, food justice topics, and how to be accountable. They're also equipped to serve their communities through recipe demonstrations and redemption of federal nutrition coupons at markets and local Women, Infants, and Children (WIC) offices.
Other highlights are the workforce training and job placement services that Windy City Harvest provides. An apprenticeship program offers a nine-month training certificate in sustainable urban agriculture. The Harvest Corps program employs previously incarcerated individuals and veterans in full-time job training and then offers assistance in finding long-term employment. Windy City Harvest also offers food production and business planning evening courses for entrepreneurs and career changers.
2.    Gotham Greens
Gotham Greens built three rooftop greenhouses in New York City before expanding to another in Chicago. The one in Chicago is more than 75,000 square feet and, according to the company's website, represents the world's largest and most productive rooftop farm. It grows up to 10 million heads of leafy greens and herbs year-round.
Gotham Greens calls the farm in Pullman Park its most technologically advanced greenhouse built so far. It's located on the second-floor rooftop of Method Products manufacturing plant, the world's first LEED-Platinum certified manufacturing facility in its industry (eco-friendly cleaning products).
In February 2018, Gotham Greens announced a second greenhouse in Pullman. It will be a $12.5 million, 105,000-square-foot facility. There's no expected completion date available for the farm.
3.    Growing Home
Since 2002, Growing Home has provided farm-based training for people with employment barriers. Workers receive more than paid on-the-job experience, though. In addition, they receive help with their criminal records, medical needs, childcare, and housing.
The company's job training model incorporates every aspect of urban farm production: planting, harvesting, washing, weighing, packaging, and selling produce. In 2018, 51 people were enrolled, and they sold more than 4,000 pounds of produce in Englewood, where the organization is based. Eighty-six percent of graduates earned jobs, and six experienced a favorable legal outcome. In addition, nearly 700 children and students were impacted by the Growing Home's learning garden and school activities.
4.    O'Hare's Aeroponic Garden
In 2011, the Chicago Department of Aviation (CDA) teamed up with HMSHost, a highway and airport food-service company, to install an aeroponic garden. According to the CDA, it was the first aeroponic garden at any airport.
The aeroponic garden is one of many urban farming examples. It refers to growing plants without soil. During regular watering cycles, plant roots are sprayed with a nutrient solution. Because of limited open spaces, aeroponic gardens are becoming an increasingly viable urban farming solution.
O'Hare's garden has plant roots suspended in 26 towers that house more than 1,100 planting spots. Many of the airport's restaurants use the food produced in the garden, located in Terminal 3 over the corridor to Concourse G. The garden's produce includes varieties of basil, lettuce, beans, and herbs.
5.    The Urban Canopy
The Urban Canopy is devoted to creating a more sustainable and equitable food system in Chicago. Its vision is highlighted by a two-acre raised bed production farm on Englewood and Auburn-Gresham, where they grow a wide range of vegetables, crops, herbs, and flowers.
An exciting part of the farm is that it builds biological systems by feeding with compost like food scraps from neighbors and members of its Compost Club. That club comprises residential and commercial composting services, allowing anyone interested in composting food scraps. As a result, the bar for environmental sustainability is raised even higher. In addition, the farm has become a home to local animals, including bees, garter snakes, hawks and falcons, and parakeets.
The Urban Canopy is one of many urban farms in Chicago, transforming environmental sustainability and promoting healthy living. If you'd like to help your city reap the benefits of urban agriculture, you can become a better leader with an online Master of Public Administration (MPA) degree. You'll learn to implement public administration theories in real-world situations, such as developing urban agriculture policies. And because this type of program is developed in partnership with community leaders and public service professionals, you can be confident you're getting the right education for your career goals.
Aurora University Online's degree features no textbook costs, no GRE is required, and you can complete the program in one year. Expert instructors teach all courses with extensive experience in their fields.