Program Overview
Develop the skills and knowledge needed to begin social work practice with the online Bachelor of Social Work (BSW) program from the George Williams School of Social Work at Aurora University. You will establish the groundwork for a successful path leading to employment in the field of social work and be prepared to work with communities, groups, families, and individuals in a variety of settings as well as with diverse populations and problems. Graduates with the BSW degree are eligible to apply for advanced standing in the Aurora University Master of Social Work program.
Some courses in this program use open education resources (OER) in place of traditional textbooks. In those cases, this means digital, openly licensed content is available free of charge to students.
Build on your previously earned credit to begin your journey today with our CSWE-accredited social work program.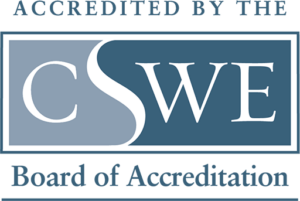 Curriculum Overview
Aurora University's online BSW provides you with a broad academic background and field instruction in social work. Each class is taught by faculty members who have real-world experience.
Students will have the unique opportunity to apply skills learned in the classroom to real-life situations through an internship. You'll be paired with a faculty mentor in your field who will provide feedback on various internship-related assignments. You can complete your internship at an approved agency. In some cases, it is possible to complete your internship at your place of work.
Get Started