At Aurora University Online, we are an inclusive community dedicated to the transformative power of learning. We offer the wide-ranging programs of a university with the personal attention of a small college. Our faculty members are accessible, and our academic and support programs are designed to help you succeed.
Through Aurora University Online programs, students can earn an AU degree or endorsement from experienced faculty members in a convenient and flexible format.
Enjoy the Online Experience at Aurora University
Online degree programs provide distance learners with a dynamic and interactive learning environment focused on a comprehensive curriculum designed and taught by Aurora University's dedicated faculty. While maintaining high educational standards, the online programs are convenient for working professionals who wish to advance their careers with a college degree. Aurora offers courses year-round in convenient five- to eight-week modules. Throughout each program, students are encouraged to share their knowledge, experiences, opinions and ideas with classmates through interactive discussion boards and chat rooms.
History, Mission, and Values of Aurora University
Aurora University is a private, independent, comprehensive university that enrolls approximately 6,000 students at three locations in Aurora, Illinois; Woodstock, Illinois; and Williams Bay, Wisconsin.
History
Early Founding and War Years
Founded in 1893 in Mendota, Illinois, the university began as a seminary that prepared graduates for ministry. Recognizing a broader education need in the region, the university soon expanded its mission to include new program offerings for a diverse student body and moved to a new campus in the community of Aurora. To match its new mission and new campus location, the institution changed its name to Aurora College.
During the education boom of the post-World War II years, the university saw tremendous growth in enrollment. Veterans flocked to the institution's innovative evening degree program in an effort to transform their lives through higher education.
Aurora University in the Late 20th Century and Today
In the 1970s and 1980s, the institution expanded its curricular offerings in a variety of professional fields to meet the growing trend of students going to college after high school graduation for better career opportunities. Aurora College also began awarding advanced degrees in select fields. To match enrollment and curricular growth, the institution renamed itself Aurora University in 1985.
Aurora University has continued to grow into the new millennium by acquiring George Williams College on Geneva Lake in Williams Bay, Wisconsin, and initiating a diverse offering of online degree programs.
Mission
Aurora University is an inclusive community dedicated to the transformative power of learning. As a teaching-centered institution, we encourage undergraduate and graduate students to discover what it takes to build meaningful and examined lives. Our singular goal is to empower our students to achieve lasting personal and professional success.
Values
Integrity: Aurora University adheres to the highest standards of integrity in every aspect of institutional practice and operation. Through this proven dedication to honesty, fairness, and ethical conduct, we lead by example and inspire our students to do the same.
Citizenship: Aurora University exercises the rights and responsibilities of citizenship in an inclusive educational community, founded upon the principles of mutual respect and open discourse. We live within our means and manage our resources wisely and responsibly, while sustaining an environment that fosters teamwork and promotes services to others. We serve the needs of the Fox River Valley, McHenry County (Illinois), Walworth County (Wisconsin), and online learners by offering myriad educational and cultural opportunities to our students and the community-at-large.
Continuous Learning: Aurora University works and lives as a non-profit organization dedicated to continuous learning. We help students achieve their full potential.
Excellence: Aurora University pursues excellence by embracing quality as a way of community life.
The University's core values are the foundation upon which our aspirations rest. They undergird our belief in the transformative power of learning. As members of the Aurora University community, we enter into a voluntary compact with one another to live, learn and work in ways consistent with these ideals.
Accreditation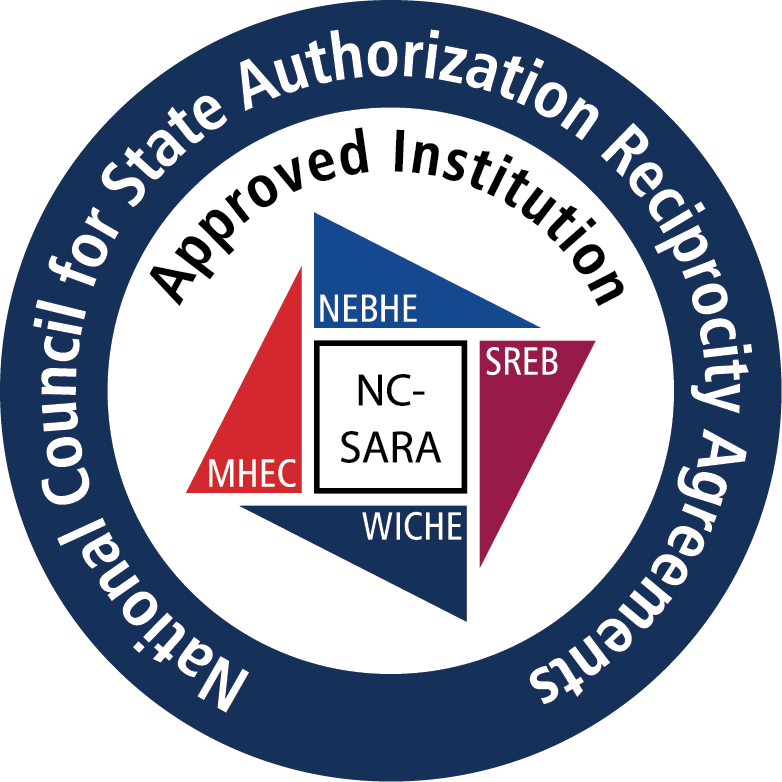 Aurora University is a participant in the National Council for State Authorization Reciprocity Agreements initiative. The Illinois Board of Higher Education (IBHE) has the responsibility and authority to resolve complaints against Illinois institutions. Information may be found on the IBHE Institutional Complaint System website.
The Higher Learning Commission accredits Aurora University at the bachelor's, master's and doctoral levels.
The Aurora University BSW and MSW social work programs are accredited by the Council on Social Work Education (CSWE).