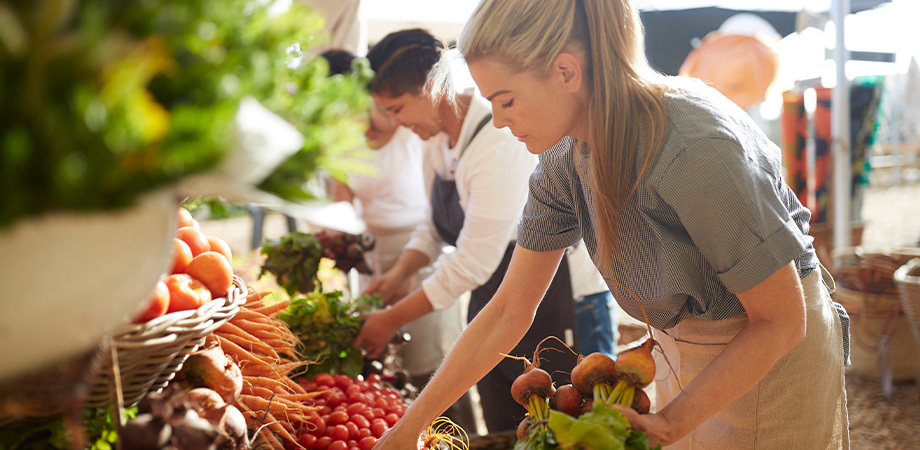 Food systems incorporate everything food-related from field to fork. It brings together growing, packaging, transporting, selling, and consuming food. As a result, agriculture, nutrition, health, and economic development are involved in food systems individually and collectively.
Imagine what that means for individual cities. Communities have to wrestle with far-reaching implications, such as wider food sustainability issues and subtopics like obesity and food insecurity. Overall, the right approach is needed to meet the environment's needs, help people afford healthy food, support the community, and create a plan to make it all feasible.
That's a tall order, and it identifies the need for food systems experts who are equipped to help. Policymakers are starting to recognize how those professionals can be an asset to help the community and solve a wide range of problems.
Recognizing the Need to Solve Food Issues
The United States was ranked number 26 on a list of 67 countries on the Food Sustainability Index tool, which is a joint project between the Economist Intelligence Unit and the Barilla Center for Food and Nutrition Foundation. Each country's result represents a score for three categories: food loss and waste, sustainable agriculture, and nutritional challenges. The top five countries on the list include France, Netherlands, Canada, Finland, and Czech Republic.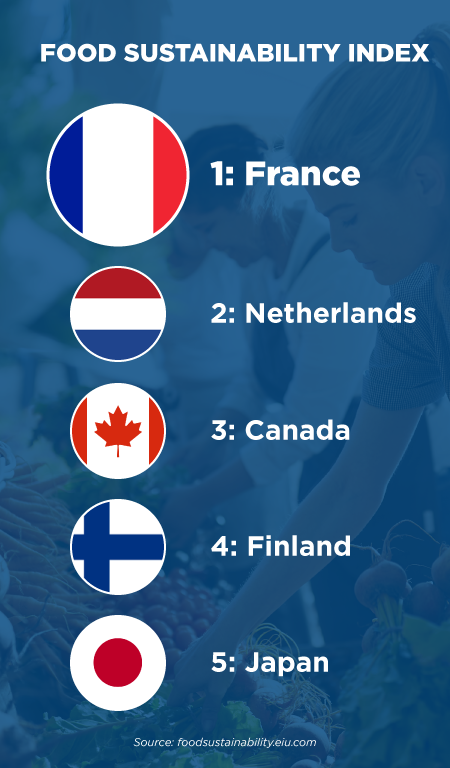 Food sustainability issues have received a lot of attention from researchers and community leaders. One leading issue is food insecurity, which refers to the lack of access to enough food to support an active and healthy life. Food-insecure households have limited or uncertain availability to nutritionally adequate foods. According to Feeding America, one in eight people in the United States are food-insecure.
Food insecurity is linked to other food sustainability issues like obesity. The Journal of the American Osteopathic Association surveyed more than 7,000 adolescents and found that those from the most food-insecure households were 33% to 44% more likely to be overweight and 1.5 times more likely to be obese. Initially, the relationship between food insecurity and obesity was considered a paradox. But as the Food Research & Action Center noted, they're both consequences of social disadvantage. They can co-exist in the same individual, family, or community. Limited finances and a lack of access to fresh foods can lead to food insecurity and obesity. One simple illustration is how a food-insecure individual may only be able to access low-cost, high-calorie food. Combine that with how low-income neighborhoods often lack places for healthy exercise, and it's easy to see how weight gain can take place.
According to the Centers for Disease Control and Prevention (CDC), the prevalence of obesity was 39.8% and affected around 93.3 million U.S. adults in 2015-16. Obesity can lead to heart disease, stroke, type 2 diabetes, as well as different types of cancer that represent some of the leading causes of preventable and premature death. The CDC added that the medical cost of obesity in the country was $147 billion in 2008; people who have obesity spend $1,429 more than those of normal weight.
Food sustainability issues like insecurity and obesity are only part of the problem. Cities need to focus on sustainability so they can not only attack issues like hunger and food access, but also improve residents' overall health. Other benefits include those for the economy and the environment.
Local Governments and Food Systems Experts
Cities across the nation are starting to recognize the local government's role in food sustainability issues like food insecurity and obesity — "starting to" being the key phrase. It's not a given that cities are facing food issues head on through legislative efforts. That needs to happen if communities are going to maximize their ability to solve major issues that impact nearly every aspect of society.
Engaging the Local Government in Conversations
In a special issue of the Journal of Agriculture, Food Systems, and Community Development (JAFSCD), several articles examined the local government's role in food systems. The initial piece called for a shift in how local governments engage in public policy to strengthen community food systems.
There's little consistency in how things are done, however. Some governments are rapidly adopting policies while others are trying to figure out if they should get involved. Formality differs, too; "some local governments are convening conversations, while others are passing laws and ordinances," the authors added. "Purposeful inaction by local and regional governments, we argue, is a policy decision, too."
Not doing something that should be done can be a critical mistake. Authors in the article join other scholars who have argued that communities are missing out on solving food issues and further benefits by not getting involved. One article in Studies in Social Justice compared food to a "civil commons" that, to meet societal goals, requires democratic institutions to work with citizens to steward the public resource of food. Another article, a seminal piece in Agriculture and Human Values, called for local governments to get more involved in conversations around food systems planning and related policies. It referenced the link to community health and welfare, metropolitan economies, and impact to the urban environments.
How Food Systems Experts Are Getting Involved
Local governments may hesitate to dive into solving food issues because they don't know where to start. It's a valid concern, as there are some pitfalls to be aware of when dealing with something this far-reaching.
For instance, how should a city's policymakers get involved with increasing local production of fruits and vegetables? There are certainly several environmental, economic, and social benefits for urban farming. The issue is where to begin. In that type of case, food systems experts can play a valuable role in knowing how to proceed with something as complicated as urban agriculture.
As a separate article in the JAFSCD issue described, the city of Victoria, Canada, included local food experts in the engagement process to gain input. From food systems experts to the general public, city staff received feedback about different opportunities and barriers to increase urban food production. What they received guided them in potential changes to policies, guidelines, and regulations.
Several other cities have used food systems experts to guide policies. The food system news site Civil Eats overviewed major metropolitan cities across the United States that have hired experts and added small offices within local government structures devoted to food. For example, Baltimore hired Holly Freishtat as one of the first food policy directors in the country in 2010. She helped make changes like property tax credits for urban farms and credits for supermarkets to open in food deserts. Other cities have used food experts and managers to focus on sustainability or health. Or, in the case of Denver, food is a tool for economic development, the article added.
Major cities have brought in food systems experts to guide policies and other measures to battle food issues. If you're a public official and you'd like to help your city battle issues like food insecurity and obesity, and gain other benefits through smart food policies, an online Master of Public Administration degree can help. Become a better leader by learning how to implement public administration theories to real-world situations like urban agriculture and urban hunger. Because this program was developed in partnership with community leaders and public service professionals, you can be confident you're getting the right education for your career goals.
Aurora University Online's degree features no textbook costs. No GRE is required, and you can complete the program in one year. All courses are taught by expert instructors with extensive experience in their fields.