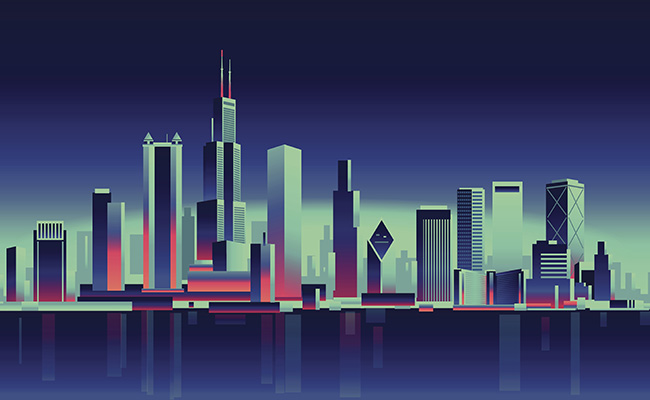 Between 2009 and 2012, the video game industry grew four times faster than the American economy, Fortune magazine reports. A top state for video game development jobs is Illinois, which employs more than 4,000 employees who earn an average of $92,453 per year.
The Chicago area is home to more than 30 video game studios. They consist of small, independent studios, along with internationally known developers like NetherRealm. The following list of Chicago video game companies illustrates the variety of studios and developers in the area, as well as the job opportunities available.
1.    NetherRealm Studios
NetherRealm Studios is headquartered in Chicago and was founded in 2010. It replaced WB Games Chicago as a subsidiary of Warner Bros. Interactive Entertainment, absorbing developer Midway Games in the process. This resulted in the ownership of series like Joust, Spy Hunter, The Suffering and most notably, Mortal Kombat. NetherRealm is named after the recurring location found in the popular Mortal Kombat series.
NetherRealm does not partner with other brands to create games, but it will use smaller development studios as contractors to complete certain parts of games. Focused on developing original games and franchises, NetherRealm has won nearly two dozen awards for games like Mortal Kombat and Injustice: Gods Among Us. The highly anticipated sequel to Injustice: Gods Among Us, Injustice 2, is scheduled for release on December 31, 2017.
NetherRealm employs 201 to 500 employees, according to Glassdoor. Its careers page has job listings for those interested in working for a leading Chicago video game developer.
Example Job: A post from May 2016 details an open position for an advanced software engineer, network. The position helps the studio "implement cutting-edge online features and ensure the Mortal Kombat franchise is an industry leader in online functionality" and requires a BS in Computer Science or similar field along with professional experience.
2.    High Voltage Software
High Voltage Software is headquartered in Hoffman Estates, a suburb approximately 40 miles northwest of Chicago. Founded in 1993, the independent game development studio opened a second location in New Orleans in 2014. Next door to its primary studio, High Voltage Software owns a motion capture, animation and effects facility known as Red Eye Studio.
High Voltage Software has shipped more than 95 titles "on nearly every console in existence since 1993," according to the studio's website. It currently develops games for Steam, Microsoft Xbox and Sony PlayStation, predominantly contributing to cross-platform titles by other publishers. The studio also develops original mobile games and is working on original virtual reality games for the Oculus Rift platform.
Games from High Voltage Software utilize Unreal Engine 4, which is one of the major video game engines on the market. The studio has collaborated with Disney, Warner Brothers (Mortal Kombat and Injustice), SEGA and Konami to help produce games in a variety of genres.
High Voltage Software employs more than 100 individuals. Its careers page includes a link to current openings, which has posts for immediate openings and positions the studio accepts applications for on an ongoing basis.
Example Job: A job description for engine programmer outlines the responsibilities and qualifications. This position is for applicants who "love to write code, and understand what it takes to create cutting edge gameplay." Responsibilities include designing and implementing core game engine components, integrating third-party software into the High Voltage engine codebase and developing in-depth knowledge for proprietary technologies. Qualifications include a degree in computer science/engineering or equivalent work experience and deep knowledge of C/C++.
3.    Iron Galaxy Studios
Iron Galaxy Studios is headquartered in Lincoln Park and opened a second studio in Orlando, Florida, in 2012. Founded in 2008, the studio says that it is "one of the world's largest independent video game developers, delivering both home-built, original experiences and partners' visions to all platforms."
Iron Galaxy Studios has developed more than two dozen games. Its first original game was Wrackateer in 2012, followed by Divekick in 2013 and Videoball in 2016. Other notable work includes the following.
Developed Killer Instinct Season 2 & 3 for Microsoft Studios
Worked for GearBox to port Borderlands 2 to PS4 and Xbox One
Worked with Activision on 2015 Deadpool game
Developed Batman: Arkham Origins DLC
Worked on various parts of AAA title Bioshock: Infinite
Iron Galaxy Studios has also partnered with Telltale Games, NVIDIA, Capcom, 2K, Epic Games and others. The studio employs 130 people across the two locations, according to Venturebeat. Job openings are listed on the company's home page.
4.    Wargaming Chicago-Baltimore
Wargaming Chicago-Baltimore is a studio located in Chicago and Hunt Valley, Maryland. Founded in 2001 as Day 1 Studios, the studio was acquired by Wargaming in 2013 and then rebranded as Wargaming Chicago-Baltimore.
Parent company Wargaming was founded in 1998 and has 15 locations and more than 1,000 employees worldwide. Its games include Hybrid Wars, World of Tanks, World of Warships, World of Warplanes, Master of Orion; the company collaborates with Microsoft, NVIDIA, Apple, Google and Sony. Wargaming also runs its own eSports organization, the Wargaming.net League, and is exploring virtual and augmented reality technologies.
"Wargaming Chicago-Baltimore is the talented studio responsible for the console edition of Wargaming.net's flagship title, World of Tanks," says the company's website. The Chicago and Hunt Valley locations employ more than 100 people. A careers page lists open job postings.
Example Job: A post details an opportunity for a tools engineer. Responsibilities include coding, debugging and managing critical engine systems, along with optimizing code for memory and performance. Requirements include a bachelor's degree in computer science, math, physics or engineering and experience with C++, Win32 development and MFC, C#, Qt and SQL.
5.    CloudGate Studio
CloudGate Studio is a game development studio located in Aurora, Illinois. Founded in 2016 by three industry veterans, the studio is an early-stage startup that focuses solely on virtual reality games. The studio develops games with Unreal Engine 4.
At the 2016 Game Developer Convention, CloudGate Studio introduced its first project, a horror demo for the HTC Vive called The Brookhaven Experiment, and received wide praise. The studio's first game is Island 359, a dinosaur survival game for the HTC Vive. It was released in August 2016 as an early access game.
The three founders are the only current employees of the studio.
Education Requirements for a Career in Video Games
A Bachelor of Science in Computer Science degree is a commonly listed requirement by employers in the video game industry. All of the job postings found and covered in this article — for engineering and programming positions at leading Chicago video game companies — mentioned this degree.
Aurora University's online computer science degree prepares students for a career in video game development. It teaches programming languages like JavaScript and C++ that are used at top video game studios. Various software engineering concepts essential to video game engines are also covered. The program is offered fully online.