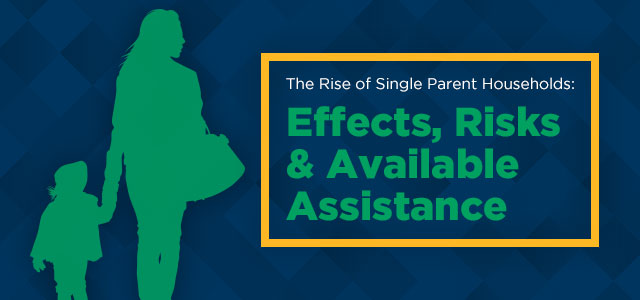 The percentage of children under the age of 18 in the United States living in single parent households increased to 35 percent in 2014, according to the Annie E. Casey Foundation. In some locations, the number is greater. Chicago has joined cities such as Fresno, Indianapolis and Tucson where approximately half of children live in single parent households, while Cleveland and Detroit lead the nation at 75 percent and 71 percent, respectively.
The typical American family structure has changed. According to the Pew Research Center, many people are waiting to get married or not getting married at all. In 2012, the median age at first marriage for women was 27 and for men was 29, up from 20 for women and 23 for men in 1960. One in five adults age 25 and older in 2012 had never married, up from roughly one in 10 adults in 1960.
As a result, the number of children in nontraditional households, especially single parent households, has increased significantly. The Heritage Foundation reports that in 1964, 93 percent of children born in the United States were born to married parents. But in 2010, only 59 percent of children were born to married couples.
Issues Faced by Single Parent Households
In comparison to two parent households, children and adults in single parent households are, on average, confronted with special challenges. While not all single parents and children in a single parent household face these issues, they exist for many single parent households.
Finances
Most single parent households earn significantly less than two parent households. According to statistics compiled by Legal Momentum, the median income in 2012 for single mother families was $25,493, 31 percent of the median income for two parent families ($81,455). Single father families earned a median income of $36,471, which is 45 percent of the median income for two parent families. In 2013, 77 percent of single parents were single mothers.
Children in single parent households are much more likely to live in poverty. In 2012, the poverty rate for children in single parent families was triple that of children in two parent families; 42 percent of children in single parent families were poor, compared to 13 percent of those in two parent families.
Financial difficulties faced by many single parent households result in further challenges:
33 percent of single parent families in 2013 were "food insecure," which measures the risk or state of being hungry, and 13 percent used a food pantry
11 percent of children in single parent families, and 27 percent of single parents, had no healthcare coverage in 2012
42 percent of single parent households had at least one of nine hardships measured by the Census Bureau in 2011, compared to 22 percent of the whole population
Child Outcomes
"One of the most troubling trends for child well-being is the steady decline in the percentage of children living with two married parents," the Annie E. Casey Foundation explains. "There is near universal agreement among researchers that being raised by married parents in a low-conflict household provides children with tremendous economic and emotional benefits. Children of single parents are at higher risk of negative outcomes later in life, such as dropping out of school, becoming a teen parent or going through a divorce in adulthood."
The Heritage Foundation provides several statistics that quantify the increased risks that children of single parents face. For families with the same race and amount of parental education, when compared to intact married families, children from single parent homes are:
More than twice as likely to be arrested for a juvenile crime.
Twice as likely to receive treatment for behavioral and emotional problems.
Approximately twice as likely to be expelled or suspended from school.
A third more likely to drop out of high school.
Furthermore, girls from single parent homes are more than twice as likely to have a child without getting married. And by the time children from single parent homes reach age 30 — when adjusted for families of the same race and similar incomes — they are three times more likely to end up in jail. Finally, children from single parent homes are 50 percent more likely to experience poverty, even when adjusted for original differences in family income and poverty during childhood.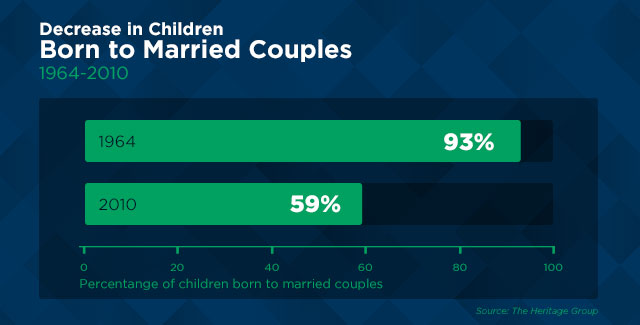 Parent Outcomes
Being a single parent can be challenging. Single parents can face several issues, including the following that are highlighted by the American Academy of Pediatrics:
Financially supporting one's family
Physical and emotional fatigue due to commitments at work and home
Lack of time for personal pursuits
Feelings of being overwhelmed with the responsibilities of raising a child
Childcare
Complications with the relationship/involvement of the other parent
Changes in children's behavior
These stressors can cause depression in single parents. According to Child Trends Data Bank, single parents in 2013 were twice as likely to be depressed as parents living in two parent families. While 5 percent of all parents reported two or more symptoms related to depression, 11 percent of single parents reported two or more symptoms related to depression.
Assistance for Single Parents
A number of resources can help single parents overcome the issues that many adults and children in single parent households face. Several options address material and emotional needs.
Local and National Resources
Federal resources offer assistance for single parents in need of healthcare, shelter, food, childcare and more. The Federal Communications Commission has assigned the telephone number "211" to streamline access to these resources in an effort to provide help for anyone in need. This is a national initiative that is offered to residents of all states.
In addition to national resources and initiatives, single parents can also seek assistance from their local area. For instance, in Chicago, single parents can reach out to dozens of initiatives for help, such as the following examples: Housing Opportunities for Women (HOW) for help with shelter; Connections for Abused Women and their Children (CAWC) for healthcare assistance, shelter and other forms of help; and the Courage Program for affordable housing, basic needs and other services.
Communities and Networks
Being part of a community can help single parents cope with any difficulties or pressure faced. One such nonprofit organization, Parents Without Partners, brings together single parents for support, encouragement and personal growth. This type of organization can help a single parent improve his or her parenting, socialize with other parents in the same life stage and offer activities for children as well. Other communities can be found at churches, YMCAs and other locations.
In addition to organizations, single parents can benefit from a personal network of friends and family members who can provide support and encouragement that they may lack without the other parent in the household.
Role of Social Workers
Social workers play a vital role in assisting single parents with their needs. Within an agency or organization, social workers may help single parents locate affordable housing, navigate childcare options or pursue employment opportunities.
As Orla Bardsley writes, "Social care professionals may come into contact with young single parents for a variety of reasons, many of which won't actually be related to their status as single parents. But whatever the initial contact is about, the challenges they're facing as a young single parent will be a crucial part of their lives." Social workers must be cognizant of any related factors or issues the parent may be facing.
A strong education can equip professionals in the social work field to assist diverse populations, including single parents who may have a wide range of needs. At Aurora University, the online Bachelor of Social Work and Master of Social Work degree programs prepare graduates to make a difference in the lives of others. With a degree in social work, professionals can become part of the solution for single parents in their community who are in need.