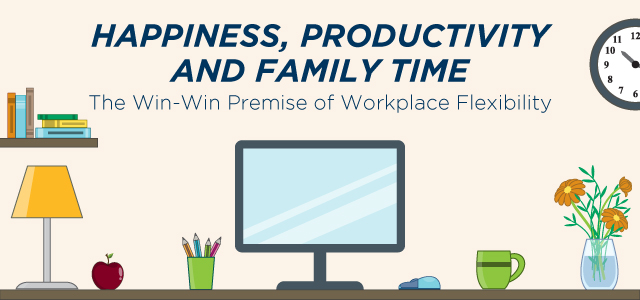 The Society for Human Resource Management (SHRM) defines workplace flexibility as a "mutually beneficial arrangement between employees and employers in which both parties agree on when, where and how work gets done." Flexible work arrangements such as flextime and telecommuting provide employees with the ability to meet child care demands and achieve better work-life balance.
Employers also benefit. Approximately 90 percent of HR professionals agree that flexible work arrangements positively affect employee morale, job satisfaction, engagement and retention. Eighty percent believe it positively impacts employee productivity.
Like remote working, workplace flexibility is a win-win opportunity for employers and employees. Unfortunately, companies hesitate to take advantage of these arrangements.
Benefits
Employees
The primary benefit of workplace flexibility for employees is improved work-life balance. If work is easier to manage, then personal life will also be easier to manage. Positive outcomes of better work-life balance include improvements to well-being, health, job satisfaction, objective performance, stress, turnover intentions, work interference with family and absenteeism.
Another benefit is reduced commuting time. By working from home or flexing hours, employees in a flexible work arrangement save time and money by not having to commute as much. They also avoid the stresses of commuting. Time saved by not commuting can help employees become more involved in community, school and family events. It can also, in part, be devoted to work-related activities, although this should not be a mandated part of flexible work arrangements.
According to a survey from WorkplaceTrends, three-quarters of employees rank workplace flexibility as the most important benefit, but only half of employers rank it as the most important benefit they believe their employees desire. Also, while 67 percent of employers think that their employees have a balanced work-life, 45 percent of employees feel that they don't have enough time each week for personal activities. One in five employees spent more than 20 hours of their personal time working outside of the office each week.
Employers
Employers can benefit from flexible work arrangements in several ways.
Job Satisfaction: Workplace flexibility often improves employee job satisfaction, in addition to turnover and other long-term benefits.
Globalization and Expanding Availability to Clients: Increased flexibility allows employees to work nontraditional hours, including demands across time zones. This benefit positively affects customer service availability.
Attraction and Retention: Workplace flexibility is a significant factor to employee attraction and retention. Also, companies that offer the ability to work from a distance can fill positions with the most qualified candidates, without regard for location.
Loyalty, Engagement and Performance: A flexible work arrangement helps employees feel like they have more control over their work and when they will be most productive.
Reduced Negative Outcomes: Workplace flexibility reduces missed work due to illness, distractions due to nonwork demands, occurrence of accidents and unnecessary turnover from employees unable to meet nonwork obligations.
Cost Savings and Return on Investment: Real estate and utilities costs decline in flexible work arrangements because less office space is needed. And by retaining employees through these types of arrangements, companies save money otherwise needed to recruit, hire and train replacements.
Implementation
Research
According to an SHRM survey, 47 percent of HR professionals reported that their organization formally offers part-time or reduced-hours schedules to their employees. Additionally, 38 percent formally offer telecommuting, 35 percent formally offer flextime with core hours and 26 percent formally offer a compressed workweek.
However, flexible work arrangements aren't as common as they may seem. "A lot of the existing research assumes companies are flexible if they report that they are," said sociologist Stephen Sweet in The New York Times. "The reality is very different."
In an article in Community, Work & Family, Sweet found that only 20 percent of companies offered a variety of flexible options to a majority of their employees. Overall, flexible work arrangements remain out of reach for most workers. Other studies reveal negative workplace flexibility trends.
More employers are cutting back programs allowing workers to reduce hours, for reasons such as the care of an ill parent.
Employers have cut back the length of leave to new fathers and adoptive parents.
Employers have reduced pay given to birth mothers on leave.
Fewer employers encourage supervisors to assess workers' performance by what they accomplish, instead of indicators like hours worked or face time.
Although flexible work arrangements improve productivity and retention, they are not more widespread because they require a leap of faith that employees won't become less productive. Another reason is that managers often lack the training needed to oversee workers in a flexible work environment, according to a national workplace flexibility study.
Policies and Best Practices
"Flexible work options are more likely to be successful when an organization encourages managers and employees to view flexibility as a mutually beneficial business process for determining the best approach to how, where and when work is done," SHRM explains.
In the national workplace flexibility study, researchers introduced focus groups, training, a planning tool and follow-up support activities. More than half of managers who completed the interventions reported improvement in team communication and interaction. Other improvements included performance, customer service and concerns over inappropriate use of flexible work arrangements.
"We know that managers have a lot of concerns about workplace flexibility. They worry about availability, fairness, workload, and performance issues," said Kathy Kacher of Career/Life Alliance Services, a sponsor of the national workplace flexibility study. "This study shows that, with the right tools, those fears can be overcome. In almost every case, managers reported no negative impact on the business after they built a plan with their employees for how they'd work together in a flexible environment."
SHRM offers guidelines for successfully implementing workplace flexibility.
Assess the effects of flexibility. Examine how a new arrangement will impact employees, teams, managers and clients.
Understand compatibility. Some roles are better suited for certain types of flexibility.
Set clear performance goals. Establish measurable objectives that are clear to managers and employees.
Keep managers, employees and co-workers informed to maintain effectiveness.
Obtain feedback. Seek input from managers, employees and clients to ensure flexible arrangements meet all parties' needs.
Enhancing Retention and Productivity
Flexible workplace arrangements can positively impact employee satisfaction and retention. They can also help companies meet strategic goals as a result of improved productivity and cost savings of office space.
Business leaders can consider flexible workplace arrangements with other policies to influence outcomes and morale. At Aurora University, our online MBA helps students acquire the skills and knowledge needed to manage employees effectively. The program offers a thorough understanding of business concepts and what's essential for success.