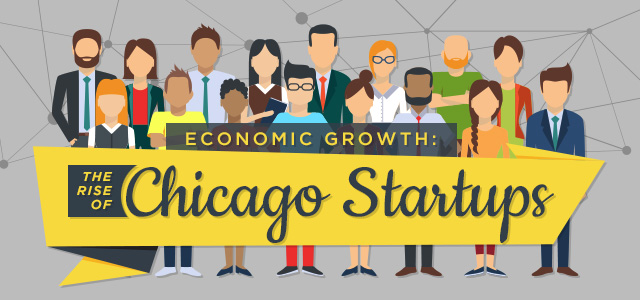 Chicago startups are drawing praise for their innovation and success. Entrepreneur contributor Hank Ostholthoff calls Chicago the "new B2B boomtown," while Inc. says the city is "one of the hottest tech startup scenes" and the "new best city in America for startups." Nearly 50 percent of investments in the city produced 10 times a return on investment, making Chicago startups far more profitable than any other city, Inc. reports.
As the accolades continue, Chicago startups should gain momentum and elevate technology and entrepreneurship in the Midwest to elite levels. Perhaps the Chicago startup environment will be seen in the same light as the Bay Area, Los Angeles and New York City — if it hasn't already reached that point.
Government and Entrepreneurs Joining Forces
Chicago's business and political spheres are teaming up to transform innovation in Chicago, according to Ostholthoff. "As a result, the city is embracing startup culture and entrepreneurship with unprecedented enthusiasm," he says. "Two great illustrations of this symbiosis are 1871 and Matter, two of the country's leading incubators, both of which are supported by both the city and state governments."
1871 was founded by entrepreneur J.B. Pritzker, who partnered with the public and private sector and secured $2.5 million from the state of Illinois to fund 1871's construction, according to Startup Grind. Eighty companies have graduated from 1871, creating 2,500 jobs in the Chicago area. Matter, a health care incubator, has 70 member companies and received $4 million from the state of Illinois and $4.4 million from industry partners, according to Crain's Chicago Business and the Chicago Tribune.
In addition, Illinois Treasurer Michael Frerichs announced in January 2016 that the state will invest more than $220 million in venture funds for local technology and bioscience companies, the Chicago Tribune reports.
The Illinois Growth and Innovation Fund will invest the capital over the next three years. The fund was formed in 2011 as an amendment to the Technology Development Act passed by the Illinois General Assembly in 2002. At that time, lawmakers authorized the first Technology Development Account that resulted in venture funds backing startups such as parking app company SpotHero, online child care matching service Sittercity and cancer surgery probe maker Diagnostic Photonics.
A Look at Chicago's Successful Startups
In 2015 alone, Chicago startups received $1.6 billion in funding and 34 companies had exits totaling more than $7 billion, Startup Grind says.
Chicago-based big tech exits in 2015 include IBM's $1.3 billion acquisition of Cleversafe and Singtel's $810 million acquisition of Trustwave, according to Technical.ly. SAP bought Fieldglass for $1 billion in 2014, and in 2013, eBay purchased Braintree for $800 million and Oracle paid $400 million for BigMachines.
Predictive analytics startup Uptake is headquartered in Chicago and announced in October 2015 that it had raised $45 million from investors, making it a so-called unicorn — or startups valued at $1 billion or more. At the time, there were 139 unicorns worldwide, but Uptake joined Chicago businesses Mu Sigma and Avant as the only unicorns not based closer to the West Coast or East Coast or outside of the United States, according to The New York Times.
Chicago is now home to more than 10 unicorns, CCTV America writes in June 2016. And with an influx of women entrepreneurs in Chicago, the trend may continue. Worldwide, only 20 percent of all startups are launched by a woman. Thirty percent of Chicago's startup founders are women, making it the only U.S. city to surpass the 20 percent mark.
Chicago startups raised more than $200 million in June 2016, Inc. notes.
SMS Assist raised $150 million with a $1 billion valuation, making it a unicorn.
Vibes raised $45 million.
Signal raised $30 million.
Hireology raised $12 million.
Sustaining Startup Growth in Chicago
Efforts to increase innovation in Chicago and the success of its startups have elevated the city to new levels.
"Chicago's innovation ecosystem is growing exponentially," Jeff Malehorn, president and CEO of World Business Chicago, told Ostholthoff. "The combination of the average 273 digital startups launched here per year and our unmatched talent pipeline is propelling Chicago [into being] one of the top cities for tech and entrepreneurship."
To continue growing, Chicago startups will need strong leadership. More job opportunities will be available to those who are prepared to help young companies successfully navigate the business world.
Chicago Startups Need Business Leaders
"There's no place where strong leadership is needed more than in a hectic startup environment in which the odds are most stacked against you, and Herculean efforts to gain and maintain traction are required daily, not quarterly," Entrepreneur contributor Robert Reffkin says.
To overcome these odds, startups need leaders, not bosses. "Bosses stick to a preordained script and defined roles, connoting little else but hierarchal authority and approaching their contributions in the context of their own careers," according to Reffkin. "Leaders, especially the transformational ones, inspire positive change in others, earning trust, creating cohesion and raising morale."
In other words, bosses tell people what to do while leaders inspire people to do their best. Reffkin offers five qualities that emerging leaders should have.
An ability to chart the course and get everyone pointed in the right direction. It's important to create a culture that helps people feel a sense of ownership and efficacy in growing the company.
An understanding of how to generate resources, not just allocate them. Leaders know how to hire the right people and maximize their strengths, while seeing the full picture.
A boundless passion for work. Leaders are not "9-to-5" employees.
A thirst for knowledge. Good leaders must be good learners, and good learners must be good listeners.
A powerful — and appreciative — magnet for talent. People choose leaders, and leaders build their team by recruiting the best members.
Developing Leadership Skills and Knowledge
A strong education is pivotal for future business leaders looking to grow startups and other companies. Aurora University's Online MBA program prepares graduates for innovation and leadership by concentrating on principles such as organizational development, strategic management and more. It takes place in a convenient and flexible online format to accommodate students' personal and work schedules.