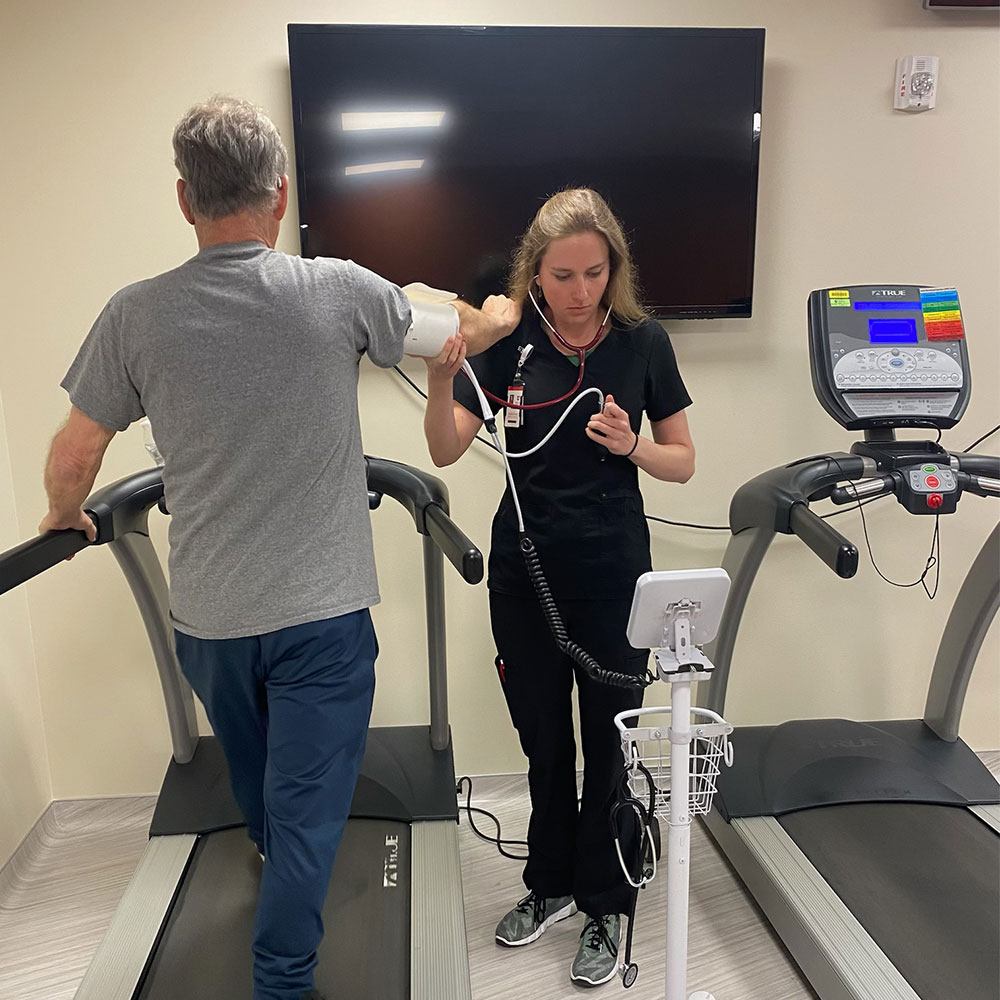 For Amanda Miner '22, the ability to complete her degree on her own timeline made all the difference.
"The flexibility of the program was convenient for me as a working professional," said Miner. "It made it possible for me to work full time while pursuing more specialized training and still complete the program in two years."
AU's graduate Exercise Science curriculum is designed to prepare students for advanced work in exercise science and clinical exercise physiology. The professors are clinicians and experts in the field who help students master the content and prepare for the American College of Sports Medicine (ACSM) Clinical Exercise Physiology (CEP) exam through embedded case studies, laboratory simulations, and other activities.
Graduates go on to work with a wide array of patient populations; they care for sick and recovering individuals in clinical and hospital settings or work in labs and training facilities, providing advanced care or conducting research.
"Many of our students are already working in fitness and healthcare," explains Sarah Radtke, Dean of AU's College of Health and Sciences. "The motivation to complete their master's degree is often to advance in their current positions."
That was the case for Miner. And after earning her Master of Science in Exercise Science degree with an emphasis in Clinical Exercise Physiology, she took the next step in her career and gained full-time employment as a clinical exercise physiologist (CEP). As a CEP, Miner helps people improve their endurance, strength, flexibility, and balance to effectively manage chronic diseases and increase their long-term physical, social, and economic independence.
The work is nuanced, but Miner was well prepared.
"My coursework inspired me to create new processes for identifying and addressing the barriers that my patients face when making lifestyle changes," said Miner. "Many of my cardiac patients have additional conditions like COPD, type 2 diabetes, arthritis, and fibromyalgia, and I need to be mindful of these when writing exercise prescriptions. AU did a tremendous job of giving me the tools I need to create individualized treatment plans for each patient. And my professors were personally invested in my success, always challenging me to think critically to solve complex problems."
Addressing the unique needs of each patient is an essential skill in the fields of exercise science and clinical exercise physiology. By providing an excellent education on a flexible timeline, AU's MS in Exercise Science helps students hone those abilities so that they can take their next step on their own terms. Read more about the program here.