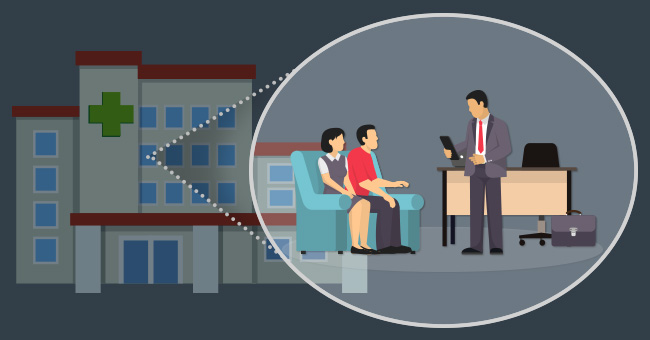 A medical social worker provides frontline services to patients with a wide range of conditions spanning the entire health care continuum, according to the National Association of Social Workers (NASW). This professional works in hospitals and other medical care facilities in clinical and leadership roles.
Various types of medical social workers are needed. A report from the Bureau of Labor Statistics (BLS) projects that health care and social assistance will become the largest employing sector by 2024, overtaking both government and business/professional service sectors. Health care occupations and industries will have the fastest employment growth and add the most jobs between 2014 and 2024.
What Do Medical Social Workers Do?
Overview
"The role of the medical social worker is one of advocacy and liaison among patient, family, hospital and community," says the journal Progress in Clinical and Biological Research. "Facilitating communication among the patient, his family, and the health care professionals involved is a constant focal point of the social worker's treatment plan. Recognizing the strengths which lie within the family system and encouraging the use of these assets by all members of the health care team is the unique contribution of the medical social worker."
Being an advocate and liaison is an emphasis for medical social workers in many specialties. For example, oncology social workers advocate for individuals as they undergo treatment for cancer and enter into the post-treatment phase. Other specialties include pediatrics, emergency/trauma and nephrology. Some social workers are employed in roles such as grief counseling, mental health evaluation, child abuse investigations and reporting, discharge planning and chemical dependency evaluation, former medical social worker Elizabeth Rose told Verywell.
Medical social workers can also work in leadership roles such as manager or administrator for specific hospital programs like mental health, aging or community outreach.
Functions
Medical social workers help patients and their families address and resolve the social, financial and psychological problems related to their health condition. Specific job functions can include the following, according to the NASW.
Initial screening and evaluation of patients and families
Comprehensive psychosocial assessment of patients
Assisting patients with illness and treatment options
Assisting patients/families with hospital admission and emotional/social responses to illness and treatment
Educating patients on the roles of and the communication with health care team members
Facilitating decision making
Employing crisis intervention
Promoting patient navigation services
Assisting with the resources and funds for medications, medical equipment and other needed services
Advocating for patient and family needs in different settings and at the policy level
"A typical day in a hospital may begin with a review of new admissions to the facility, current referrals and unresolved case issues from the previous day," Rose said. "The day will often continue with rounds on the various nursing units to collaborate with the physicians and nurses in planning for the patient. Additionally, a social worker will spend part of his or her day implementing plans for patients' discharge (release from the facility) or problem-resolution. This includes patient and family meetings and, often, health care team meetings."
Rose also points out how medical social workers are needed for unexpected situations. They may be called for a death that will involve a family needing grief counseling or for a suspected child abuse case that requires an evaluation to be reported to Child Protective Services. It is also common for other members of the health care team and patients to need to speak to a social worker at any time.
Medical Social Worker Salary
Health care or medical social workers earn a median annual wage of $52,380, according to the BLS. The highest 25 percent earn more than $64,060 and the lowest 25 percent earn less than $40,690.
There is a considerable difference in the salary for medical social workers who have a Bachelor of Social Work (BSW) and those with a Master of Social Work (MSW). A 2009 survey from the NASW shows that medical social workers with a BSW earned a median annual salary of $40,100, while medical social workers with an MSW earned a median annual salary of $60,000.
How to Become a Medical Social Worker
Earning a BSW Degree
A BSW is the most common requirement to begin working in the social work profession in entry-level positions such as caseworker or mental health assistant, according to the BLS. Some employers may hire candidates with a bachelor's degree in a related field, such as psychology or sociology.
For the medical social work specialty, professionals will likely need an MSW. "Most hospitals and health care facilities require that the social worker has a master's degree in social work from a CSWE [Council on Social Work Education] accredited program," Rose said. "Occasionally a facility will hire a BSW to do discharge planning under the supervision of an MSW."
Aurora University's online BSW provides students with a foundation for beginning social work practice with communities, groups, families and individuals in a variety of settings with diverse populations and problems. This program also prepares students to pursue graduate study in social work. Graduates with the BSW degree are eligible to take the examination for the State Social Work license (LSW) and to apply for advanced standing in the Aurora University MSW program.
This is the only CSWE accredited online undergraduate program in Chicagoland.
Earning an MSW Degree
Clinical social workers must have a master's degree. To become licensed, they must pass a clinical exam and complete two years of post-master's experience in a supervised clinical setting.
A majority of positions in medical social work are clinical roles. Additionally, managerial and administrative positions in medical social work can require professionals to have clinical experience.
Aurora University's online MSW provides students with a foundation in generalist clinical social work practice and specialized study. The program includes 1,050 hours of field instruction for applying the theories students learn to real-world situations. Students can customize their learning experience with four optional specializations: Advanced Clinical Social Work, Faith-Based Social Work, Health Care and MBA Leadership. They may also pursue the dual MSW/MBA degree program.
This is the only CSWE accredited online graduate program in Chicagoland.