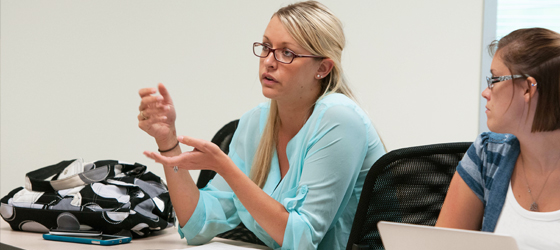 Online Bachelor of Social Work
Additional Program Offerings
The online Bachelor of Social Work (BSW) adult degree completion program is built on a strong liberal arts base that prepares students for beginning social work practice with communities, groups, families and individuals in a variety of settings with diverse populations and problems. This program also prepares students to pursue graduate study in social work. Graduates with the BSW degree are eligible to take the examination for the State Social Work license (LSW) and to apply for advanced standing in the Aurora University MSW program.
Begin your journey today with Chicagoland's only CSWE accredited online program.
Program Requirements
The BSW program requires a total of 60 semester hours, including 40 semester hours of foundation knowledge, values and skills, eight semester hours of field instructions and 12 semester hours of selected courses in social work. Students may be granted credit for suitable transfer selected and required general education courses.
Admission Requirements
In addition to the Aurora University undergraduate admission requirements, students applying to the social work program should have:
A grade-point average of 2.5 or above (on a 4.0 scale).
60 semester hours of general education coursework
Completion of these prerequisite courses or an equivalent transfer course: U.S. Government; General Psychology; and Principles of Sociology.
Career goals consistent with the BSW program's philosophy and curriculum.
Commitment to high standards of personal and professional conduct, as reflected in the NASW Code of Ethics.
Completed BSW application and Statement of Purpose.
Course Details
General Educations Required Courses for Admission
PSC1300 Introduction to US Government – 4 hours
PSY1100 General Psychology – 4 hours
SOC1100 Principles of Sociology – 4hours
Core Courses
SWK2500 Survey of Social Work – 4 hours
SWK3140 Social Work with Groups – 4 hours
SWK3150 Social Welfare: Institutions and Policies – 4 hours
SWK3210 Human Behavior in the Social Environment: Infancy to Adolescence – 4 hours
SWK3400 Human Behavior in the Social Environment Adult Lifespan – 4 hours
SWK4010 Social Work with Communities and Organizations – 4 hours
SWK4110 Individuals and Families – 4 hours
SWK4120 Integrative Seminar in Social Work – 4 hours
SWK4200 Social Work Research I – 4 hours
SWK4300 Social Work Research II – 4 hours
Selected Courses – 12 hours
Field Instruction Courses
SWK4210 Field Instruction I – 4 hours
SWK4220 Field Instruction II – 4 hours
Course details are based on information available at the time of publication. Specific program requirements are subject to change.
---
Recommended for You