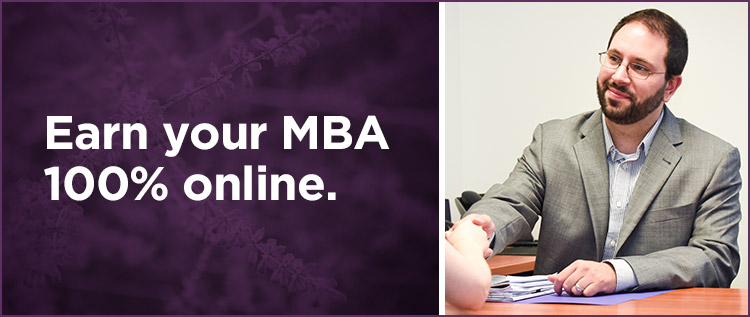 Online Master of Business Administration
Additional Program Offerings
The Master of Business Administration program at Aurora University Online prepares graduates for advanced careers through developing problem-solving and team-building skills. The online program offers a deep understanding of current and enduring business practices and theories through courses in marketing, organizational behavior, leadership, finance and accounting.
Program Requirements
The online MBA degree requires 36 semester hours, including 21 hours of required courses and 15 semester hours of concentration courses and electives.
Admission Requirements
Bachelor's degree from a regionally accredited college and/or university (minimum 2.75 GPA on a 4.0 scale)
Resume or curriculum vitae
Personal Statement
Two (2) letters of recommendation
Transcripts (official, sealed in envelope) from the college or university from which you earned your bachelor's degree as well as from any college and/or university from which you received graduate credit
Opportunities
An MBA provides graduates with a higher level of job security and earning potential. The Bureau of Labor Statistics reports a higher employment rate for those who have a master's degree. Employers increasingly search for prospective candidates with advanced education to take over managerial roles and lead companies in today's global economy.
Once your degree is completed, then what? Check out more information about the different MBA careers and job outcomes.
Course Details
MBA6020 Marketing Management – 3 hours
MBA6030 Leadership and Organizational Behavior – 3 hours
MBA6045 Managerial Accounting – 3 hours
MBA6050 Financial Management – 3 hours
MBA6075 Operations Management – 3 hours
MBA6090 Applied Business Research – 3 hours
MBA6100 Strategic Management – 3 hours
Electives – 15 hours
Courses details are based on information available at the time of publication. Specific program requirements are subject to change.

Recommended for You