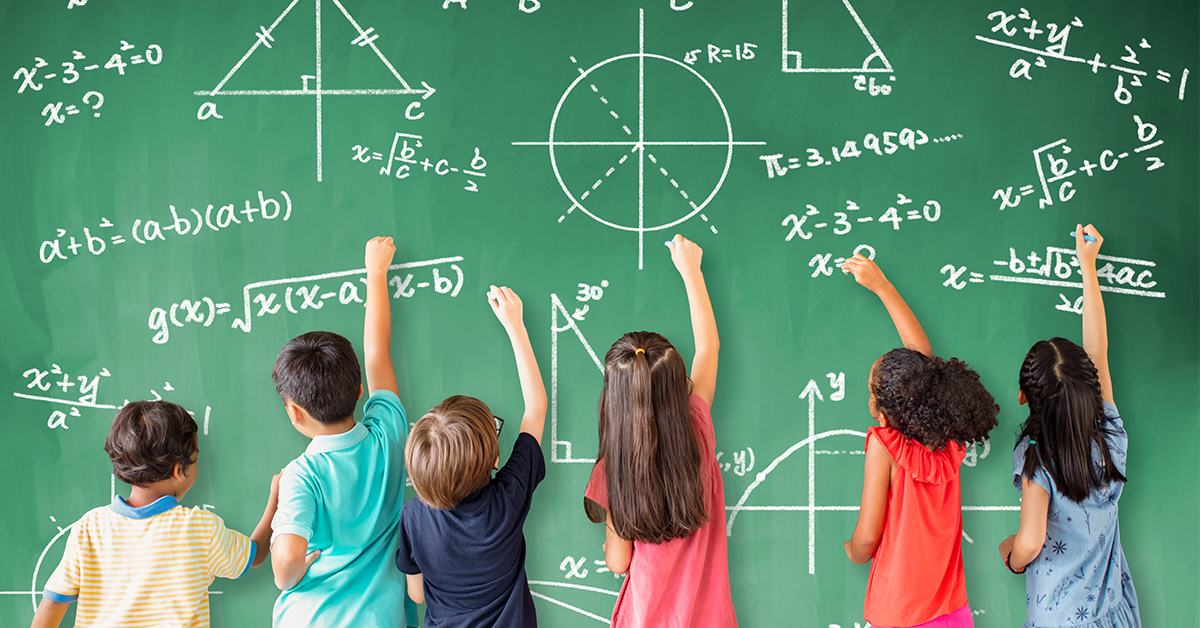 The blog post was written by guest contributor, Kayla Osbron
For teachers of all grade levels, we must recognize that all students learn differently. Some of our students pick up the material quickly and are ready to be pushed into deeper content. Whereas others tend to need more time and additional reteaching until they feel secure in a standard. In a class of upwards of 25 students, however, teachers have to be mindful of how they can differentiate their instruction. One strategy is using guided math groups.
Traditional guided math groups follow a timed rotation in which students work independently at various centers. Some examples are a technology center, a small group game center, and an independent practice center. One of the centers is to have small group instruction at their learning level with a teacher. As an educator, I loved my time with my small groups because I could meet students at their skill level. I gave feedback on their work in real-time, and students had a chance to ask questions they may not have asked during a whole group lesson. However, I did not like what I noticed taking place at some of the other stations.
While I was meeting with a small group, some of my other students would complete their activity before our 15-minute rotation was finished. They had nothing else to do, and it often led to behavior management issues. On the other hand, students who took longer to complete their assignments often left centers with incomplete work – and feeling unaccomplished and frustrated. I found a better way to continue doing my small group work while also keeping the other rotations meaningful for students – Must Do, May Do!
Must Do, May Do is essentially a task list that students need to complete when I am not meeting with them. Tasks are prioritized in two categories: Must Do and May Do. Students must complete everything listed as Must Do before they move on to May Do. Students can move through the list at their own pace, starting with the highest priority assignment. After my students complete the Must Do assignments, they can choose from the May Do section. It does not have to be completed in order, and students can switch activities as they see fit. This gives students a sense of ownership in their learning and helps keep them motivated throughout the class period.
Typically, when planning my Must Do, May Do activities, I follow a similar pattern.
Must Do:
Formative assessment

This is how every student starts a Must Do, May Do session. This information will help guide my future lessons, and this assignment is most important for students to complete.

Activity

After completing their formative, students complete a math fact practice activity. Often, they use the online program Reflex. However, I also have lots of hands-on math fact games, including:

Jenga — students pull a Jenga block marked with a math fact problem, and they answer.
Flashcard Race — pairs of students compete to answer math facts in a set amount of time.
Fidget Spinner Race — students see how many math facts they can answer before a spinner stops.

Online Skill Practice

The final Must Do activity is additional online practice. Typically, this is a level on the personalized learning program, IXL.
May Do:
Coloring Activities

Once students have moved onto May Do, I like to choose activities that I feel my students would enjoy and learn from. One of my favorites is coloring activities, and a popular one is color by numbers. These are all over the internet in all sorts of math standards! Essentially, students will have to solve a math problem, and the solution corresponds to coloring a certain section of a mystery picture. Another popular coloring activity that I like to include is mystery pictures with the coordinate plane. It is a great review activity, and it keeps students engaged!

Small Group Games

Group games are a popular activity. While many group games are specific to the content you teach that day, Math Tic-Tac-Toe is always a favorite. You can create a tic-tac-toe board where there are math problems in each square. Then, students must correctly solve a problem before they can claim their square.

Additional Online Games

The final May Do is usually online. My students love Prodigy, a free online math game. In this game, students have an avatar and pets that allow them to battle other students. To win, students must answer a series of questions correctly.
My biggest piece of advice for planning Must Do, May Do assignments is to choose activities that students can self-check. For example, I love to use color-by-number activities because if a student solves a problem and notices their answer is missing from the solution set, they immediately know they made a mistake. Sometimes, I leave the answer key for students to self-check as they complete their work and adjust as needed. This allows students to learn independently, and it cuts down the number of questions and interruptions I typically have while meeting with students.
While students are completing their activities, I will be calling students to meet with. What I love about this activity is that I can be extremely flexible during my teaching time. Sometimes I will meet with individual students, whereas I might meet with small groups on other days. In the traditional guided rotations, I am always forced to meet with a small group for a set period. However, with Must Do, May Do, I can spend as much time as I need with students. For some groups, that might be a quick 5-minute check-in. For students who need extensive reteaching, I do not feel pressured to finish in a specific period. When I meet with small groups, I try to have an on-level, below-level, and above-level activity or lesson planned. These three options allow me to provide even more individualized instruction and challenge all students appropriately.
I am passionate about effective small group instruction because, over time, I have realized how different each student truly is. Every year is different, every class is different, and every student is different. Therefore, our instruction should reflect this. Through my time at Aurora University in their online MA in Mathematics Education program, I have learned the importance of meeting students where they are. Our standards should not be looked at in isolation at each grade level, but we should see math education as a progression. Through small group instruction, we can identify where students are in their progression of mathematics and then design instruction to continue their growth.
What matters most is student learning. Traditional guided rotations have their perks in the classroom, and I still use them from time to time. However, having a flexible plan has greatly improved my lessons and my remediation efforts in my classroom.
You can deepen your understanding of mathematical concepts and their usage throughout the K–12 spectrum with Aurora University's online Master of Arts in Mathematics Education. Learn to present mathematics as a modeling and problem-solving technique in a STEM context. Some courses use open education resources in place of traditional textbooks, offering significant savings on your education.
About the Author
Kayla Osbron is an Aurora University Online alum and fifth-grade teacher in Illinois. You can follow her on Instagram.