School-age scientists are breaking ground and making history
When you let a child's imagination run wild, there are no limits as to where it can go. Igniting a child's creativity and getting them excited about science can take them down a fulfilling road of adventure, discovery and invention.
Teachers help spark a child's initial passion for science by sharing their excitement for the subject in the classroom. However, understanding and implementing effective pedagogy can sometimes fall flat for teachers who aren't prepared for instruction. Aurora University Online offers a Master of Arts in Science Education along with a Master of Arts in Mathematics and Science Education for current teachers looking to expand their science as well as mathematics teaching skills for a more engaged and dynamic classroom where imaginations have the room to grow into big ideas.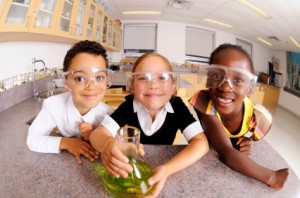 "Our programs focus on deepening participants' understanding of mathematics and science concepts and the connections among the various branches so they are understood as a coherent whole through the K-12 spectrum," said Saib Othman, Dean of the College of Arts and Sciences, of the online programs at Aurora University. "Program requirements are aligned to the new national core standards and the practices associated with them."
School-Age Scientists Make Their Mark
Today's science teachers are molding a new generation of scientists, engineers and inventors by incorporating interactive curriculum into the classroom that is designed to spark an interest in science. For some, that road has already led to significant scientific breakthroughs. At Aurora University, our online programs will explore teaching methods alongside content knowledge, allowing participants to learn new strategies to work with students in the classroom.
Take a look at this roundup of some awe-inspiring, school-age scientists that are already breaking ground and making history.
An App for That: A group of North Aurora sixth grade students created a smartphone app that was designed to help assist in the chemistry learning process by making the periodic table fun. The app is designed to be a study aid for students and recently won a statewide competition. The group's teacher, Andy McCann, is a graduate of the Aurora University Master's in Teacher Leader in Elementary Mathematics and Science.
What's the Buzz: A recent scientific paper published in the Royal Society Journal Biology Letters spoke on a noteworthy discovery in the world of the buff-tailed bumble-bee. The report uncovered that "bumble-bees can use a combination of color and spatial relationships in deciding which color of flower to forage from." While the discovery provides scientists and entomologists tremendous insight into the color and pattern vision of the bee, what is even more significant is that the observations were made by school-age students at a UK elementary school, who also compiled the report. The students were directed in their investigations by their teacher, Dave Strudwick, along with neuroscientist Dr. Beau Lotto.
Star Student: Kathryn Gray gives new meaning to the phrase "star student." In January 2011, at the age of 10, she is the youngest person to discover a supernova. Kathryn made the discovery when she was comparing images of the night's sky taken by her father, Paul Gray. When she spotted a difference in the nightscapes, her father sent the pictures to be analyzed by a local astronomer, and it was confirmed that she had, in fact, spotted a supernova.
On the Cutting Edge: He's not Doogie Howser, but Tony Hansberry of Jacksonville, Fla. presented his new, less invasive technique of stitching patients after a hysterectomy to doctors at Northside Hospital in Atlanta, Ga. His technique has even been used once by a certified gynecologist in surgery. Tony, who is enrolled in Darnell Cookman School, a medically-focused magnet school, perfected his suturing skills in the classroom.
Go Green: Chlorofluorocarbons (CFCs) are used as coolants in refrigerators and air conditioners. CFCs are very harmful to the environment and cause lasting damage to our ecosystem. However, in 2006, at age 13, Larry Caduada provided us with another way to go green with his discovery that selinene could be distilled from celery and used to replace Freon as a refrigerant.
STEM Deficiencies in National Education System
Science as well as mathematics is critical to a child's educational development and future academic achievement, and teachers adept in both subjects are important in a child's development, appreciation and understanding of STEM subjects (science, technology, engineering and math). STEM programs are critical to fostering new and innovative talent that helps bolster our nation's position on a global scale. However, national testing data shows a deficiency in student achievement levels in science and math, as less than one-third of the nation's eighth graders scored proficient on the 2011 National Assessment of Educational Progress and just over one-third passed the math portion. Unfortunately, that trend seems to carry through well into post-secondary education; a report published by The National Academies found that only 15 percent of American college students were enrolled in science or engineering programs.